Well, 2017 certainly blew right past us, didn't it? We're pretty sure that most of you reading this have stopped yourselves this month and wondered where did the rest of the year go? As we close 2017, allow us to take you on a journey as we reflect on what we think were the 5 most unique motorcycles to have emerged over the year.
1. BMW Motorrad Concept Link

Neither a motorcycle nor a scooter, the BMW Motorrad Concept Link aims to redefine what the company sees as a solution to urban mobility for the future. As expected with anything to do with the future, the Concept Link features a flat battery pack mounted within the floorboard and even a reverse gear to allow for improved manoeuvrability within the confines of the urban jungle.
Due to the packaging of the concept, the BMW Motorrad Concept Link also possesses a low and narrow seat height that should make getting on and off the bike easier – BMW Motorrad claims that one can even mount it from the rear. Adding to its usability, the concept also packs a versatile storage space under the seat bench that can be accessed via a sliding door. Speaking of the seat bench, that too is adjustable fore and aft depending on rider preference.
Aside from that, vital information such as speed, navigation and remaining battery charge is projected onto the windscreen and directly into the rider's field of vision to keep visual distractions to a minimum. Secondary information is then displayed on a large surface panel below the handlebars.
2. Bandit9 Odyssey

With only 9 units scheduled for production, the Bandit9 Odyssey could not only be in the running as one of the most unique motorcycles of 2017, it could very well be one of the most exclusive ones of the year as well. In a nutshell, the motorcycle features a chassis fashioned out of 904L steel and bodywork that is impossible to spot panel gaps on.
While the Bandit9 Odyssey couldn't be any more different to the BMW Motorrad Concept Link above, the two do share one common theme – the method in which information is projected to the rider. Utilizing avionics, information is projected out via a see-through LED display. This allows Bandit9 to do away with the need for an instrument cluster.
Elsewhere, customers can choose between two methods of motivation. The first is a more traditional 1,400 cc V-twin engine with 72 hp while those of a more left-field orientation can go for a dual-drive electric motor system.
3. Maksim Burov Koenigsegg Concept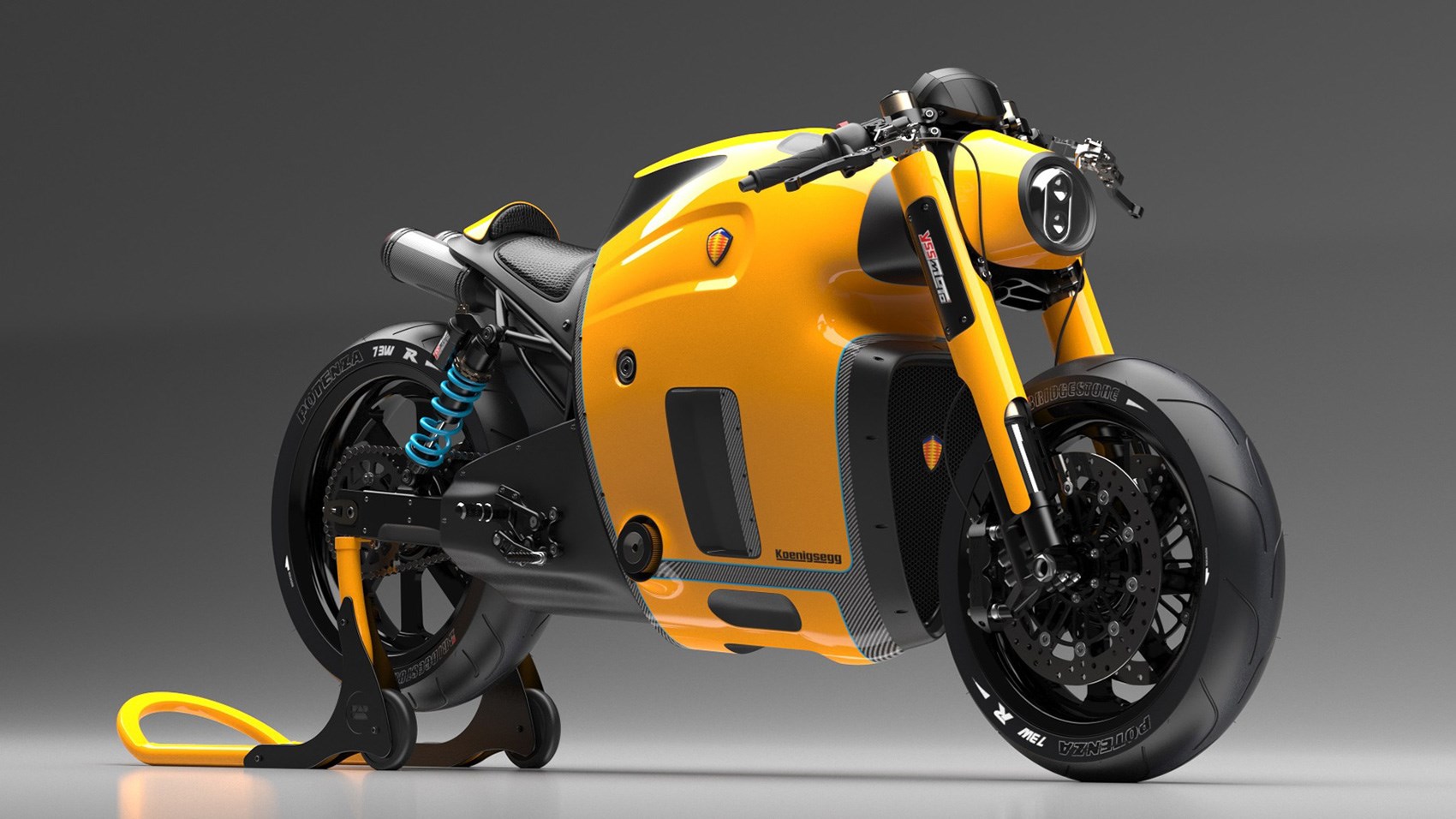 No, you did not accidentally click on a link to a page on cars or Koenigseggs. You're still very much reading about motorcycles, we assure you. With that said, Moscow-based, digital designer Maksim Burov decided to give it a shot at coming up with his own unique take on what a two-wheeled Koenigsegg could look like.
Hardcore enthusiasts and followers of the motorcycling industry might realize that this particular styling exercise looks a whole lot like the Lotus C-01 from a couple of years ago. However, unlike this Koenigsegg concept, the Lotus Motorcycles C-01 was actually produced (rumor has it that 100 units were made). While the two may look similar, the Koenigsegg concept differs slightly by employing an underseat exhaust setup instead of a side exit unit on the Lotus C-01.
What lies beneath the conceptual bodywork of the Maksim Burov Koenigsegg concept is anyone's guess, really. Just for reference, the Lotus C-01 is powered by a 1.2 litre V-twin engine producing a total of 200 hp courtesy of KTM.
4. Electric Cafe Racer 1 Concept
Based on the traditional Honda cafe racer models, the Electric Cafe Racer 1 concept by Spanish and Russian designers, Pablo Baranoff Dorn and Alex Guliyants, may look like a restored classic but its old-school aesthetics are purely just that, aesthetics.
More than just a digital touch-up, the duo have styled the entire concept from the ground up with the frame, seat, rims, tyres, front and rear suspension, lights and hubs all painstakingly rendered. They even went as far as to include a second template for the motorcycle to be built out of steel or aluminium.
Building on the default principal of showcasing concept motorcycles, the duo have built a three-part structure with the front grille being larger and more aggressive with the air intake in consideration. The sides, on the other hand, showcase an alternate idea of a second air intake to present the possibility of adding more technical features.
5. Yamaha Niken
Come on, guys. This one is a no-brainer, right? How else do you make a motorcycle stand out? By adding another wheel, of course! Introduced not too long ago, the Yamaha Niken is arguably one of the coolest-looking three-wheeler we've come across in awhile.
However, things will look a tad more familiar on paper as the Yamaha Niken employs the same 847 cc, inline three cylinder engine as the Yamaha MT-09. Said powerplant puts out a total of 115 PS at 10,000 rpm and 87.5 Nm of torque at 8,500 rpm. What's different though, is the frame of the motorcycle which is now welded up from tubular steel as opposed to being cast from aluminium.
Elsewhere, the Yamaha Niken features a pair of 15-inch wheels up front and two pairs of upside-down forks. Aside from that, the Niken also has (obviously) larger bodywork to accommodate a different upper half while the transmission is a regular six-speeder with a slipper clutch.