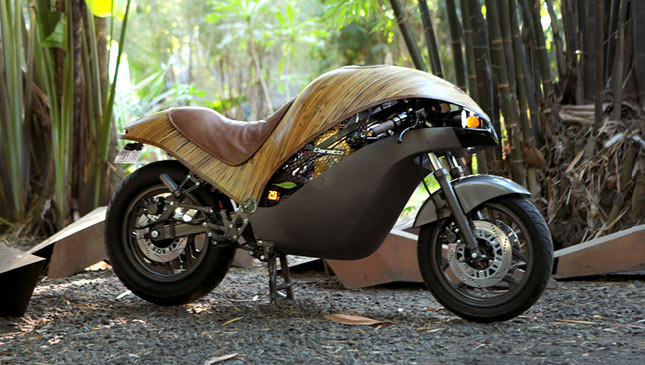 In the automotive industry, going green is a constant motive considering that climate change and pollutants are at the peak of the concern. With addition of electric vehicles and innovation to create a better and environment-friendly solutions, the idea of going green is an ongoing success and will be improving for the better. With that being said, a group of enthusiasts in the Philippines have come up with an idea to build a little electric motorcycle to demonstrate their objective of going green. The Banatti green Falcon is an electric motorcycle project to test the applications of bamboo.
The Green Falcon may not be the fastest or the most powerful in terms of speed record but the idea of its bamboo bodywork is the key to sustainability and not to mention, it gives out a unique appearance. The bodywork is marine-lacquered. Most electric bikes look similar to the conventional bikes but the Green Falcon aims to portray its motive. It is indeed eye-catching and super cool.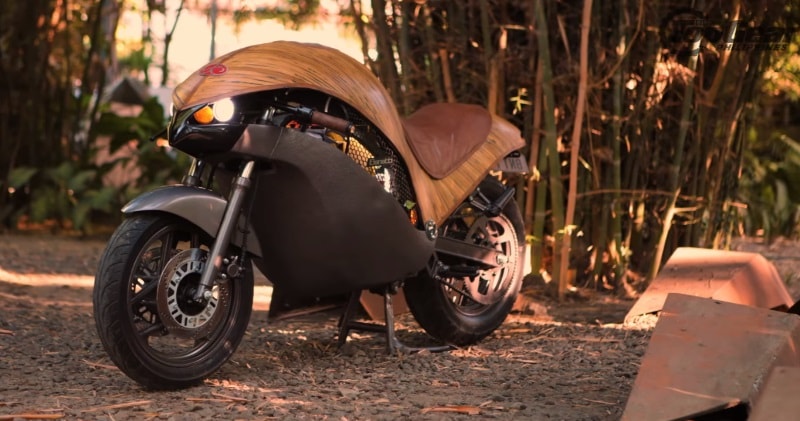 The designer Christopher Paris Lacson and his small team has gathered to make this project work. The bike features a utilitarian base frame and fits a 3.3kW (4.4 hp) electric motor and a small 48-volt lithium battery. It is capable of producing approximately 70 mph (110 km/h) which is the speed limit in Manila. It is also able to produce a peak torque of 150 Nm ( 110 lb-ft).
Sitting on top of the chassis is a one-piece woven bamboo body . The Filipino Department of Environmental and Natural Resources is plating a lot of bamboo between now and 2020, which is as much as 15,000 hectares, with aims of CO2 control and soil erosion prevention. Several projects including this will be increasing the bamboo plantations up to a million hectares nationally.
The bodywork is bent and molded on a wooden frame and then coated with marine-grade waterproof epoxy to harden it. According to Lacson, such gives out a light, strong and organic feeling to the riders, as if they are hugging the bike. The bike also features a JBL sound system and a leather saddle. The dash is inlaid into the tank.

Banatti hopes to hand-build 111 of them for sale, only after they are approved for street use. Sales will begin in the Philippines and then reach out internationally if it successfully becomes a product. We certainly think this would be a big hit!

<!-comments-button-->