Being the lead test rider for Honda Racing Corporation in MotoGP since early 2018, German rider Stefan Bradl has become a very important source of information for all Honda riders in MotoGP. After spending two days testing in Jerez, Bradl spoke with German newsportal Speedweek to analyze what happened.
Sharing track with World Superbike riders is always a point of interest, and Stefan Bradl showed that, even though Jonathan Rea and his Kawasaki ZX-10RR are really fast around Jerez, the Honda RC213V is still a bit quicker. Bradl was the fastest rider during the test, beating Rea by just eight thousandths, something the Honda test rider explains easily
"Everyone knows that in Jerez, the MotoGP and World Superbikes are really close to each other. In Jerez we can't take advantage of the extra power of a MotoGP bike (+20 to 30 hp), on this track we only use sixth gear once, on the main straight. On a single lap, the superbikes are really fast, but on a race distance the difference is bigger for the MotoGP".
Stefan Bradl took his time during the two-day test to try the new Michelin compounds that will be used in 2019, making the work of Honda MotorGP riders easier during the pre-season tests that will happen in Sepang and Qatar
"My lap times weren't brilliant; I have to admit that. In the past we used medium or hard tyres to do race distance simulations. But this time I went to track with the soft tyres because we don't know how this new compounds will work. And they've lost performance really fast".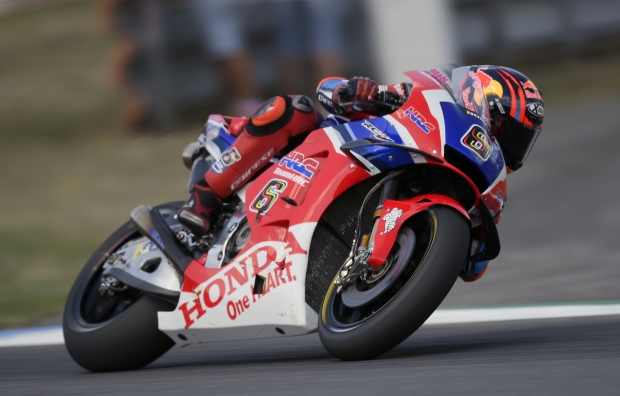 Leaving Jerez happy with the results and information gathered, Stefan Bradl also took the time to speak about his connection with factory Repsol Honda riders, Marc Marquez and Jorge Lorenzo.
The HRC test rider ensures that the five-time MotoGP champion Marquez "is happy with my work, and even though he hasn't worked with new team rider Lorenzo for long, Bradl also recognizes how professional the Spanish rider is: "I haven't worked with Lorenzo too much, but on our first technical meeting he was very professional. The test riders have gained a bigger importance the last couple of years due to limited testing time. There are more MotoGP races and less test days".
From Jerez, Stefan Bradl will be travelling to Sepang, where from February 6 to 8, MotoGP riders will enjoy their first official test session of 2019. On the Repsol Honda team, Jorge Lorenzo will be absent, still recovering from injury, and will be replaced, precisely, by Stefan Bradl. Honda won't be able to test at 100%, because Marc Marquez and Cal Crutchlow are also recovering from injuries, so the HRC backed rider Takaaki Nakagami is the only full time MotoGP rider to be able to work without limitations and evaluate the work done on the RC213V during Winter time.