The All-New Classic 350 is a revival of history and a continuance of legacy.
Subscribe to our Telegram channel for instant updates!
Royal Enfield has finally launched its All-New Classic 350 on September 1, 2021. The new Classic 350 will continue the traditions of the brand with modern revival.
Taking inspiration from the post-war G2 model from the 1950s, the Classic 350 remains a timeless design and envisions the iconic motorcycle for its 120th year. The rebirth of the iconic bike opens up a new chapter to Royal Enfield's legacy of authentic post-war-era British motorcycles. The Model G2 was a pioneering design and a popular one as well among bike enthusiasts. The Classic 500 made its debut in 2008 and redefined the middleweight motorcycle category. Despite the halt in production for the UCE 500 in 2020, the bike built its own undeniable legacy and the Classic 350 is ready to take on the new mantle.
The Classic 350 features a teardrop fuel tank, a distinctive thump and a retro headlamp. It also comes with an array of colourways to tackle your personal style.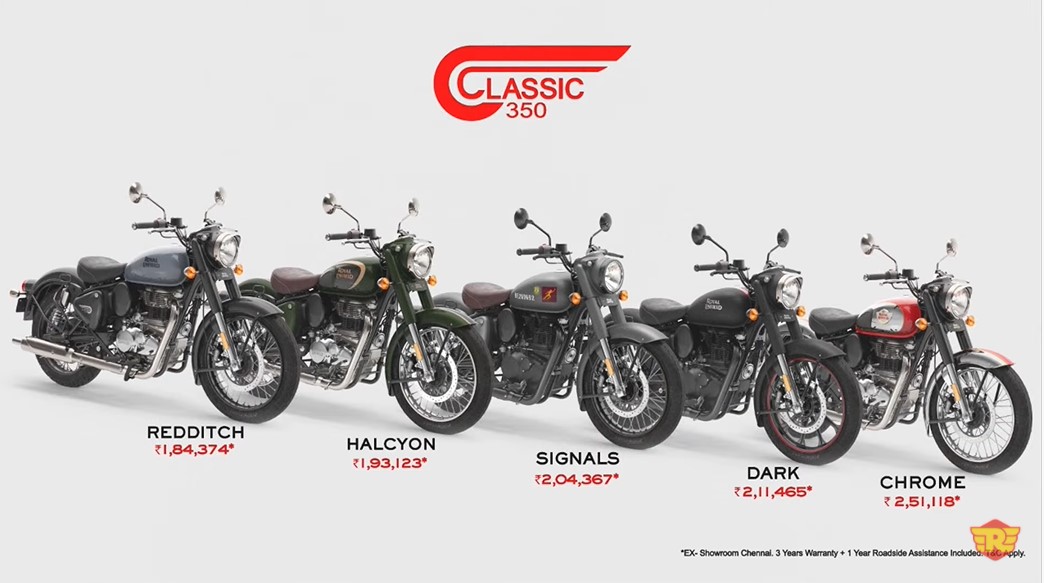 The Dual Channel Royal Enfield Classic 350 comes with many colour options: Chrome Red, Chrome Bronze, Dark Stealth Black, Dark Gunmetal Grey, Signals Marsh Grey, Signals Desert Sand, Halcyon Green, Halcyon Black, Halcyon Grey. For the Single Channel, the colour options are Redditch Sage Green and Redditch Grey.
Royal Enfield Classic 350 Redditch comes with a price tag of Rs 184,374. On the other hand, the Halcyon at Rs 193,123 whereas the Signals at Rs 204,367. The Dark is at Rs 211,465, Chrome Rs 251,118 (ex-showroom Chennai) with 3 years warranty along with 1-year road assistance service. The dual-channel ABS starts from Rs 215,118 (Ex-showroom Chennai).
Riders get to enjoy the bike in an upright riding position and larger diameter brakes. The bike features a wider seat as well. As for the details, the Classic 350 is equipped with an analogue speedometer with the functionality of an LCD display. It also has a USB port mounted below the handlebars, enabling charging on the go.