iMotorbike has taken the liberty to list out the top five signs to take note of before servicing your motorcycle.
Subscribe to our Telegram channel for instant updates!
It is every motorcycle owner's dream to keep their bike looking brand new and more importantly, running as if it is brand new. The most effective way to keep your motorcycle in its best condition is with regular servicing.
Servicing intervals depend on riding conditions, but there are a few ways to tell if your bike is due a service. The requirements of each bike is different, and specific care should be given accordingly based on your motorcycle model while adhering to the OEM© recommendations.
It also depends on how often you use the bike, the more often you ride it, the more mindful you need to be about the condition of the bike.
Here are five signs to tell you to take your bike for servicing.
1. Your Engine Oil Hasn't Been Change for a While
The engine oil is what protects your engine and allows it to perform to its maximum potential. It is important because it lubricates and cools down the engine internals, preventing the engine from seizing due to excessive heat. However, the engine oil will not last forever and becomes dirty over time causing it to lose its chemical properties. This makes it far less effective. Some motorcycle manufacturers may stipulate to change the oil every 3,000 km to 6,000 km for example depending on the motorcycle type. Every motorcycle is different; hence it is important for you to follow the OEM guidelines or recommendations with respect to service intervals for your motorcycle. However, performing self-inspections on your bike can be beneficial to improve its longevity.
By checking the dipstick or through the window in some models, you can observe the colour of the oil. It is encouraged for you to check the dipstick through the window glass in some models every now and then to ensure that the oil levels are always above the minimum mark and topping up whenever necessary. If you notice the oil level dropping below the minimum constantly, it may be a sign of leakage.
Apart from that, when your bike's engine is louder than usual, this could mean the engine oil has lost its ability as a protective layer between the metallic parts of the engine. The engine oil in wet clutch motorcycles also lubricates the clutch and gears. Hence it is important that you select the right engine oil as well as service on time.
Last but not least, if the engine oil keeps going below the minimum mark, this could be a sign of leakage or the oil being too old. Time to change it!
2. Your sprocket and chain is worn out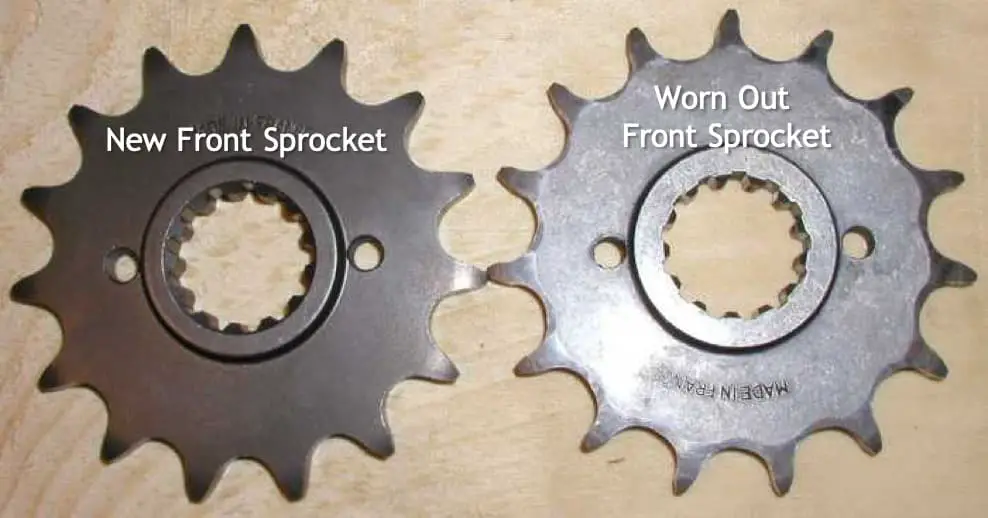 Sprockets are used to transmit rotary motion between two shafts where gears are unsuitable or to impart linear motion to a track, tape etc. You can check for a worn chain by pulling the chain away from the rear of the sprocket on the rear wheel. If the chain is worn, you'll reveal about half a tooth of the sprocket. A new chain will wrap around the sprocket snugly and won't pull away.
Alternatively, you can look for binding or kinked links that cause tight spots. Kinks would indicate a weak point where the seals are no longer keeping dust and dirt out of the pins. Another sign that the sprockets need replacing is when the sprocket teeth are hooked, pointed or chipped.
3. Your air filters are dirty
The air filter's job is to filter out unwanted particles in the air before it enters the engine. However, over time the filter gets loaded up with dirt in doing its job.
When the air filter clogs, there's a reduction in the air that's pulled into the engine's intake system. You will have to face a problem with the imbalance in the air-to-fuel ratio. When this happens, your engine suffers. Less air means less energy generated per litre of fuel, which means there will be a decrease in fuel economy.
4. Worn out tyres
The tyres are undeniably one of the essentials of a motorcycle. However, oftentimes motorcycle users tend to forget to check on the tyres, resulting in unwanted accidents. Just like the engine oil, tyres can age. Tyres are subject to a process called oxidation, wherein oxygen interacts with compounds in the rubber causing them to harden and eventually become brittle. As the oxidation process increases over time, the tyre performance decreases.
If you are unsure when the tyre usage expires, a simple way to check is by observing the tyre patterns. If your tyres show an unusual pattern of wear, it is time to replace them.
However, tyre deterioration is not only caused by oxidation but mainly due to wear from friction with the road. You can also check for deterioration by observing the tyre tread depth, any unusual wear and tear, cuts, impact damage, tyre pressure and by checking whether are there any objects stuck to the tyre.
5. Check brake fluids
Every motorcycle will have two brake fluid reservoirs, one for the front brakes and one for the rear. The brake oil is one of the most essential factors in keeping you safe out on the road.
What you can do is to visually check the level in your brake fluid reservoir at least once a week. If it falls below the mark, you should top if off with the appropriate specification of brake fluid if the level falls below the top mark. However, if you wish to change your brake fluids overall, it is best to do so at service centres for safety reasons.

Service Your Motorcycle at SAMCE and Earn Extra Bonuslink Points
Once you have made your observations, it is time to schedule for a servicing appointment at any Shell Advance MotoCare Express (SAMCE) site. BonusLink users can earn up to 500 extra points by spending at Shell. All you have to do is to buy one Shell Advance from Shell, change the engine oil at SAMCE and fill petrol or buy anything from Shell with a minimum purchase of RM10.
With as low as 100 Bonuslink Points, customers can redeem special treats in-store including popular favourites such as Yeo's canned drinks, Coca-cola Klasik, Nescafe Tarik, Himalaya Salt candy and Shell cash vouchers (100pt for RM1).
The SAMCE caters specifically to the needs of motorcycle riders. It aims to provide professional motorcycle servicing without the need to pre-schedule or wait in line and at a more affordable price. Riders can have their motorcycle engine oil change, change the oil filter, clean air filter, lubricate and service chain and sprockets and many more preventive maintenances at a fraction of a cost with free safety checks.
Shell can perform an oil change at SAMCE for most types of bikes including bigger CC bikes. The basic 5 points check during an oil change is also applicable for big bikes.
A list of the 26 SAMCE sites can be found here.
With just four steps, you can now service your motorcycle and claim rewards!
What are you waiting for? Customers can now sign up for BonusLink for free at any Shell station nationwide or register by downloading the BonusLink App from the Apple App Store or Google Play Store.