The latest agreement with Aprilia puts an end to the partnership between RNF Racing and Yamaha.
Subscribe to our Telegram channel for instant updates!
Datuk Razlan Razali's RNF Racing will make a dramatic switch from Yamaha to Aprilia machinery for the 2023 season. The team will be ending its partnership with the Japanese manufacturer less than a year after the new team was formed out of the remnants of the highly-successful Petronas Yamaha team.
RNF Racing and Aprilia jointly made the official announcement which will see the two sides work together for two seasons and could be extended for another two seasons.
This is the first time in MotoGP history that Aprilia has a satellite team. The manufacturer will be bringing in four RS-GP machines for the season.
RNF Racing urges that it will be maintaining the same principle, which is to be a platform for the development of young and talented riders who will then be formed into 'factory' team riders.
"We are absolutely thrilled about this long-term partnership with Aprilia Racing," said team boss Razali. "Our philosophy remains to work together with the factory team to develop riders that will one day become Aprilia factory riders.
"We will assist them in development to ensure that we continue to be competitive and ultimately win with Aprilia Racing.
"The proposal by Aprilia Racing fulfils our long-term plans, strategies and security for the next two plus two years and I must thank Massimo for his trust, confidence and faith in us. We are absolutely looking forward to the season next year and this new partnership.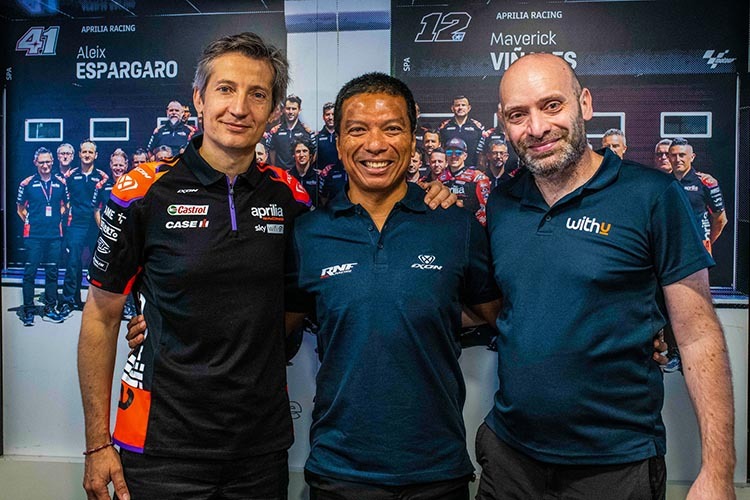 "At the same time, we want to express our gratitude to Yamaha for these past years working together and growing together."
"We will, though, maintain our focus on working hard this season in order to improve our results together with Yamaha and eventually conclude 2022 on a high note."
Razali has not been reserved in his criticism of Yamaha, stating that the team was not being treated as a partner but as a customer.
However, Razali hasn't been shy in airing his criticism of Yamaha, either, with his complaints of being treated not as a partner but as a customer a regular refrain from other Yamaha satellite team bosses in the past – and marking a substantial departure from the new norm in the way other MotoGP factories work with their satellite squads.
"I am happy to announce the agreement with RNF Racing," says team boss Massimo Rivola. "We have always reasoned in small steps and as we demonstrate the competitiveness of our RS-GP, a natural part of the journey is to see two more on track."
With RNF Racing we find a partner to enhance and valorise this extraordinary heritage. We are thinking, of course, of the riders and the best competitiveness, but also of raising new generations of engineers, technicians and managers. To continue and improve the extraordinary, all-Italian tradition of Aprilia Racing".